1000 Islands Group Tours
Rockport Boat Line, located in the charming village of Rockport, Ontario, is truly in the "heart" of the 1000 Islands. Conveniently situated midway between Toronto, Ottawa and Montreal, it is only minutes from the TransCanada Highway (401) and the Thousand Islands International Bridge to New York State and Interstate 81.
We specialize in group tours providing tour operators and drivers with everything they need to ensure their customers have a unique and exhilarating experience. Offering tour commentary in 13 available languages, tour groups from around the world are able to experience the beauty and majesty of the 1000 Islands in their own familiar language.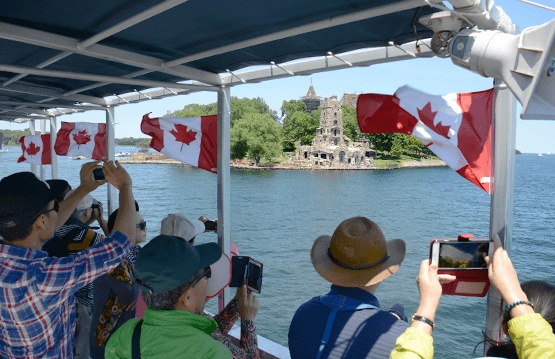 Choose from our many options. Our One Hour Heart of the Islands Cruise aboard our triple decker followed by a delicious Plated Lunch, served dockside in our Island View Restaurant.  For those groups with a tight schedule, try our boxed lunches available to be enjoyed on board your coach. Reservations for the Plated Lunch and Boxed Lunch must be done well in advance.
Commentary on board is available in these 13 languages:
English, French, Spanish, Italian, Portuguese, Japanese, Mandarin, Cantonese, Korean, German, Dutch, Russian and Hebrew.
Our boats meet the most stringent and current Transport Canada Marine Safety Regulations.
Rockport Cruises has been awarded a Safe Travels Stamp by The World Travel & Tourism Council for adopting health and hygiene global standardized protocols.
The Safe Travels Stamp is an international symbol designed to allow travelers to recognize governments and companies around the world, which have adopted health and hygiene, standardized protocols – so consumers can experience 'Safe Travels'.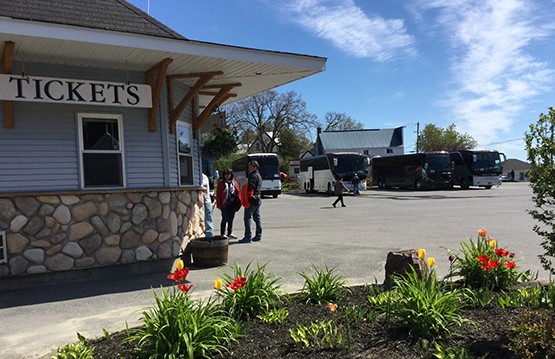 Tour Escorts and Drivers can enjoy a one or two hour rest while taking advantage of Rockport Boat Line's full facilities, including:
Ample Coach Parking
Complimentary Meal for Tour Escort and Driver (with a group lunch reservation)
Public Washrooms
Coach Washing Facilities
With our compliments, Rockport Boat Line provides your tour escort with a souvenir for each member of your group.
Our season starts April 28 and runs seven days a week until October 31st.
We offer a discounted group rate for all cruises for groups of 25 or more passengers.
Please contact our Marketing Director to discuss our services or if you wish to make a reservation, please call 1-800-563-8687 or click here.

The Boathouse Country Inn offers the perfect historic ambiance and modern amenities, all presented in a relaxed and casual atmosphere in the Heart of the 1000 Islands. Read More

Just a few steps away you will find our historic Cornwall's Pub, where guests can enjoy lunch or dinner on the patio or the cozy pub while the cares of the world seem to melt away. Read More
Book Your Cruise Today!
We cannot confirm online reservations if made less than 48 hours prior to cruise time. Please call our office direct. Thank You!
Schedule is subject to change without notice.