This wonderfully lush landscape is dotted with luxurious cottages and vast estates located in the "Heart" of the 1000 Islands and surrounded by the beautiful St. Lawrence River. Referred to by the Iroquois Nation as the "Garden of the Great Spirit", the tranquility of the area belies a history of adventures, wars and rebellions. The famous Boldt Castle, Zavikon Island, and Millionaire's Row are only a taste of the adventure aboard this cruise in the heart of the 1000 Islands.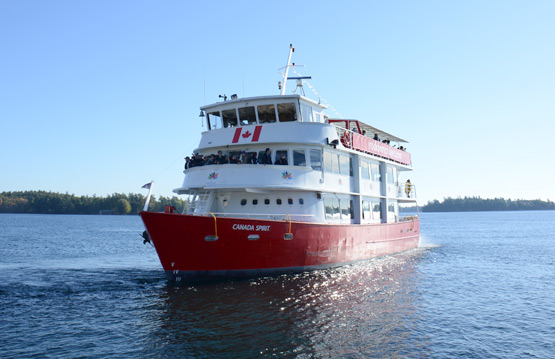 Washrooms on our boats have limited accessibility. Licensed bar and snacks available for purchase.
Passports are not required. Cruise duration 1.5 hours.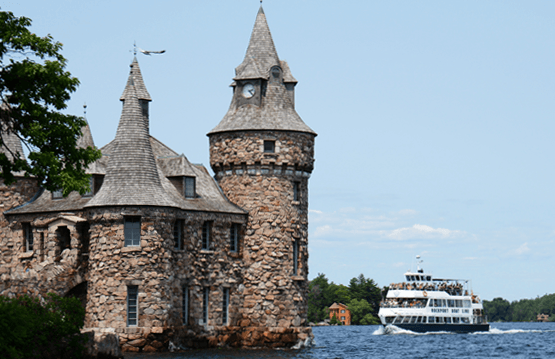 Tickets can be picked up at our Ticket Office located at 20 Front Street. From mid-July through mid-September we suggest arriving one hour in advance of departure to pick up your tickets.
2020 Schedule
April 10 – 30: Call 1-800-563-8687 for schedules
May 1 – September 6: 10:00 am, 12:00 pm, 2:00 pm
WEEKENDS ONLY
October 10 & 11: 11:00am & 4:00pm

Rates
Adults: $32.00
Seniors (65+): $27.00
Child (0-12): $17.00
SPECIAL FAMILY PASS – The pass includes 2 adults and 2 children (ages 0-12) – $88.00
Plus HST 13% Tax
Book Your Cruise Today!
We cannot confirm online reservations if made less than 48 hours prior to cruise time. Please call our office direct. Thank You!
Schedule is subject to change without notice.