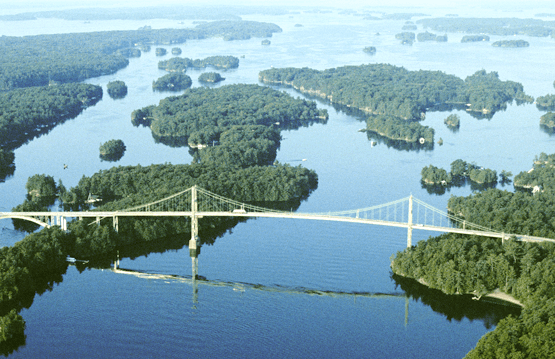 Scenic tours of the 1000 Islands have been operating since the late 1800's when Steam boats plied the waters from the docks in Rockport. The first Ferryboat from Alexandria Bay to Rockport started operation in the year of 1924. Once the Thousand Islands Bridge was erected the ferry boats were discontinued but the sightseeing boats continued.
Rockport Boat Line was originally founded in 1954. Today Rockport Cruises is a world class leader in tourism with thousands of tourists from all over the world visiting the picturesque historic village of Rockport Ontario each season. We play a key role in attracting international visitors to the 1000 Islands region.
All of our tour boats and facilities meet the most stringent and current Transport Canada Marine Safety and Security Regulations.
Accessible washroom facilities are available in our arrival area and in our restaurant. Washrooms on our boats have limited accessibility. Licensed bar and snacks are available for purchase onboard our boats. Commentary onboard is available in 13 languages.
Our grounds and gardens are beautifully landscaped and offer picnic tables and benches for relaxing.
Snacks, ice cream and cold drinks are available from our concession stands.
Our Island View Waterfront Restaurant is open for breakfast and we offer a daily lunch buffet for our group tours. For a relaxing lunch or dinner we recommend our Boathouse Restaurant and Patio or Cornwall's Pub.
An ATM machine is available on site for our visitors.
The Rockport General Store and Gift Shop have a nostalgic theme befitting Rockport's rich history. Today, the store carries unique gift items, handcrafts featuring local artisans, jewelry, clothing and specialty food items including the world famous 1000 Islands dressing. You will be sure to find something to commemorate your visit to the 1000 Islands.
Accessibility
Rockport Boat Line is committed to excellence in serving all customers including people with disabilities. We will ensure that our staff members are trained and familiar with various assistive devices that may be used by customers with disabilities while accessing our goods or services. Our staff will communicate in ways that take into account the disability.
Service Animals
We welcome people with disabilities and their service animals. Service animals are allowed on the parts of our premises that are open to the public including the ticket office parking lot and grounds, Island View restaurant and patio, the Rockport General Store & Gift Shop and all our boats. Medical documentation for the service animal is required.
Rockport Boat Line Boats
Our cruises have limited accessibility and limited washroom accessibility onboard. Handicapped washroom facilities are available in our arrival area and in our restaurant. Please note our Heart of the Islands cruise and our castle tours are NOT wheelchair accessible.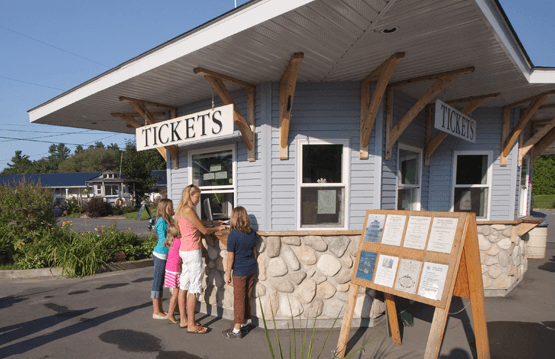 Ticket Office
Rockport Cruises ticket office is wheelchair accessible and is located at 20 Front St. Rockport.
Rockport General Store & Gift Shop
Our General Store and Gift Shop is fully accessible with three entrance and exit ramps.
Island View Restaurant
Our waterfront restaurant and patio are fully accessible with fully accessible washroom facilities. Rockport Cruises strive to make our properties as comfortable as possible for all our visitors. Customers who wish to provide feedback on the way Rockport Boat Line provides goods and services to people with disabilities can contact us by phone: 613-659-3402 or info@rockportcruises.com.